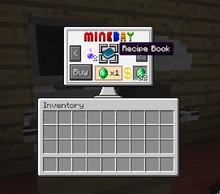 The Computer was added in the electronic update (See also TV, Stereo and Printer).
Computer acts like a mobile villager, being able to trade & buy items from the computer GUI.
Becomes very useful when in need of certain items which are hard to find. It does this on a program called MineBay.
It's also the only way to acquire the Recipe Book in Survival Mode without using cheats.
Crafting Recipe
Edit
The Computer is crafted using 7 Block of Iron, 1 Glass Pane and 1 Redstone. :D
-mr.crayfish
Place 3 Iron block across the top, one glass pane in the exact middle, one iron block place on the left middle and right middle, one redstone in the bottom middle, and one iron block on the left and right bottom.