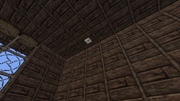 The Fire Alarm was added with the electronic update (See also TV, Stereo and Computer).
Fire Alarms are attached to the ceiling and can detect nearby fires. When a fire is present they beep, light up and emit a redstone signal. To reset the Fire Alarm right click it. The Fire Alarm detects fire in a 9x9 radius while 3 blocks off the floor, you can break it with a pickaxe.
Crafting Recipe
Edit
You can craft a Fire Alarm using 4 Iron Ingot, 1 Redstone and 1 Note Block. Place one redstone dust one the top middle, one noteblock in the exact middle, and place an iron ingot on the top left, top right, middle left, and middle right, and BAM fire alarm.