Welcome to the MrCrayfish's Furniture Mod Wiki !
MrCrayfish's Furniture Mod Wiki is a wiki for information and news related to the mod MrCrayfish's Furniture Mod of Minecraft.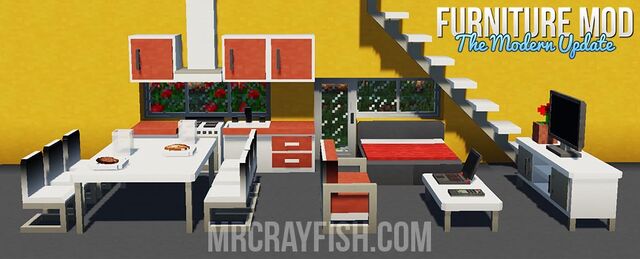 The Furniture Mod is a mod which add several pieces of furniture. It was released first on December 12, 2014 and keep growing since to add over 80 functional and decorative pieces of furniture, like chairs, tables, kitchen appliance and more !
Mod informations
Current version

Mod version : 7.0.0 pre-release 18
For Minecraft : 1.16.1
Forge version needed : 32.0.106

Furniture added

Furniture revamped

No piece of furniture has been revamped in this version.

Known bugs

Reporting bugs

Rules
Please read carefully these following rules !
Be respectful with other users.
Racism, sexism, xenophobia, antisemitism and insults are not tolerated and will result in an immediate ban.
Inserting pornographic content will result in an immediate ban.
This is a English only wikia. Please speak only English.
Do not graffiti any pages (Inserting swear words, deleting information, writing false information).
If you have a suggestion, please go on the forum instead of creating a new page.
When contributing, ensure you write a detailed description of the addition/change.
Before creating a new page, please do a research to verify the page you want to create doesn't exists yet.
Do not spam the comments section.
If an existing page is deleted, this is because the page became useless. Please don't recreate it.
Spamming and vandalism will result in an immediate kick. In case of recidivism, the user will be definitively ban.
Modpack rules
You can put the Furniture Mod in your modpack. Please give credits to MrCrayfish (Name MrCrayfish as the creator of the mod and put a link to his website (link below))
This applies to both public and private packs
Mod news
The Furniture Mod is now available on 1.16.1 ! You can download it on MrCrayfish's website or on his Curseforge page !
Community content is available under
CC-BY-SA
unless otherwise noted.